About Us
---
We are fortunate to have served hundreds of Cuban American, Canadian and European customers and have lots of testimonials from happy customers.
We are not affiliated in any way with any US or Cuban government agency, ministry or personnel. We are a private corporation providing a proprietary document retrieval service.
Document Retrieval Services
We offer Cuban document retrieval services providing customers with*:
Cuban birth certificates

Cuban death certificates

Cuban marriage certificates

Cuban divorce certificates

"Singleness" certificates

Citizenship certificates

Naturalization certificates

Cuban school records
*in most cases depending upon a variety of factors.
Haga clic en español aquí Formulario de Petición de Certificados en Cuba.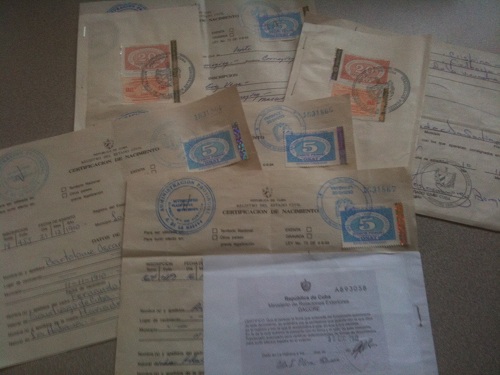 Actual certificates we retrieved for customers
Questions
How long does it take to get my certificate from Cuba?
Retrieval time depends on a variety of factors such as location of certificate in Cuba, Cuban government responsiveness, type of certificate, legalization process, courier schedule and other factors.
Generally speaking we will have your certificate to your door within three to eight weeks after we place the order for you.
Are there any up front fees?
We take a search fee of $250 to start the search process. We have up front costs along with an investment of time and resources so there is no refund for the search fee.
When we find the certificate, we will send you a scan as proof that we have it and this gives you the opportunity to review the information on the certificate.
Then, we ask for a balance of $250 to be paid so we can start the legalization process. We know the cost of $500 is high but we pay a lot in fees and five different people handle every certificate.
Why should I trust you?
We have served dozens of customers, some who insisted on giving us a positive review of our service. We enjoy helping people obtain the certificates they need in order to apply for Spanish nationality, social security, driver's licenses and other enhancements to their lives.
I have family that lives in/visits Cuba. Can they get the certificate I need?
If your friend or family member understands the Cuban document retrieval process and has the time to visit the proper civil registry and Cuban Ministries, then see if they will do this favor for you.
Be sure that they verify that the information is correct on the certificate or the certificate will be useless. We send you a digital photo of the front of the certificate for your review to confirm it has the accurate details.
Then there is the legalization process that your friend or family member will have to know. Then of course there are the out of pocket costs for fees, stamps, travel, etc.
Can I get my certificate from the Cuban Interests Section in Washington DC?
You can try. Good luck. They don't answer the phone and last time I heard, it took eight months to get a certificate from there. Their cost is about $300 for a legalized certificate.